For all official information and updates regarding Covid-19 visit the South African Department of Health website at
www.SAcoronavirus.co.za
or their WhatsApp line on 0600-123456. If you want your own WhatsApp Chatbot visit
www.whatskonnekt.com
Standard Installation Practice for SAIDSA
Intruder Alarm System Installations (Wired)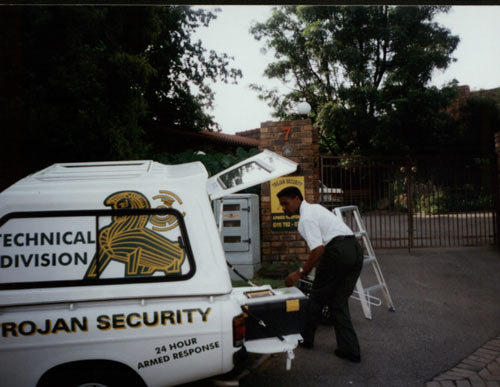 The control panel, radio, antenna and transformer must be in a protected area.

Minimum signals i.e. burglary and panic must be monitored separately.

All detection zones to use end-of-line or double end-of-line resisters and must be correctly terminated.
All detectors must be screwed down. Glue or double-sided tape is not permitted.
The mains transformer must be a minimum of 30VA. The cable from the transformer to the control panel must have a minimum core diameter of 0.5mm. (Cabtyre or Ripcord)
The standby battery must have a minimum capacity of 7.0 aH and be of the sealed type or have a minimum standby time of 6 hours for any part of the system.
A maximum of 2 (two) electronic detection devices may be connected on a zone, except in zone doubling, then 1 electronic detector only on each zone.
A maximum of 5 (five) magnetic contacts may be connected on a zone, except in zone doubling, then 1 magnetic contact only on each zone.
All joints must be soldered and insulated or in a junction box.
The radio transmitter and antenna must be correctly mounted to manufacturers specifications. The DC power cable from the Radio transmitter to the control panel to have a minimum core diameter of 0.5mm. (Cabtyre or Ripcord)
Where ceiling access is possible, the control panel, Radio transmitter and Antenna must be mounted at least 1.5 metres below the ceiling or in a location that does not leave the panel vulnerable to tampering. Control panels, radios, antennas, transformers and batteries may not be installed in the ceiling void. The control panel, radio and antenna may not be mounted less than 1,5 metres away from an external window and must not be visible from the outside.
Detector lenses must be suitably fixed in such a way as to prohibit their easy removal from the outside of the housing.
Cables to the Radio, Antenna or telephone must be wired below the ceiling.
The control panel housing and electronic detection devices e.g. PIR, glassbreak, etc. must be tamperprotected on a 24 hour zone in retail, commercial, industrial or high risk domestic installations. Wiring of electronic detectors may not use a common negative cable.
All cables that are vulnerable to corrosion and damage as well as external wiring must be suitably protected or placed in conduit.
All zones must be multi-shot.
The control panel must have a minimum 128 event log.
Mechanical keyswitches, Car batteries and Shuntlocks (cut-out switches) are not permitted.
Commercial, Industrial, Retail and high risk domestic installations must have dual monitoring.
All equipment must be installed to manufacturers specifications.
Security Tips
Personal Safety:
1. Know all emergency numbers by heart or place it on speed dial
2. If in doubt about the safety of an area, phone a police station for advice.
3. Be aware of your surroundings and the people around you.
4. Wherever you are on the street, in an office building or shopping malls, driving, waiting for a bus, stay alert and tuned into your surrounding.
5. Try not to walk in remote places at night.
6. Know the neighborhood where you live and work.
7. Trust your instincts.
8. Inform someone of your destination beforehand no matter the distance or time you expect to be gone for.
9. Limit your trips at night or at least take someone along with you.
10. Never let a stranger use your phone.
11. Never admit you are alone.
12. Send the message you are calm, confident and know what you are doing.
13. Never resist especially if there is a weapon involved.
14. Activate your house and car alarm.
15. Do not wear extravagant jewelry.
16. Avoid carrying large amounts of money
17. Do not leave a GPS and gate remote in the car (They steal it, use it to track Home, and then enter using the remote)